Wichita Falls High School
Class Of 1962 - 55th Reunion
2019 Reunion (57th)
"Looks like one more gathering of the great pack of 1962-----gray hair, worn out and replaced b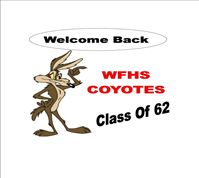 ody parts, big tummies, and fond memories of those we have lost along the way.....So, gather we will for yet another howl....after all, we are the coyotes, couldn't be prouder." Phil John, Basketball Player & Cheerleaderthe
Our 57-year class reunion is set for 9-20 & 9-21-2019 at the Courtyard Marriott again. The toom rate is guaranteed at $128 per night and includes breakfast the next morning.
Friday night, we'll meet and mingle with snacks, beer & wine furnished. On Saturday night, there will be a sit-down dinner and a DJ supplying music for those who like to trip the light fantastic. The cost for attendance is expected to be around $45.00 per person.
Small donations would be appreciated to pay for the necessary deposits. Johnny Stafford has again offered to be our Treasurer (thanks, Johnny!). Please send your check for attendnace or a small donation to defray expenses to John Staafford at #8 Waverly in Wichita Falls, Texas 76301.
If you have questions or know now whether you will be able to join us for anothr trip down Memory Lane, please email
Doug douglinc2@att.net
or
Mary Lynn mibesa@aol.com
While not in our class, this fellow speaks for many of us as we gather together one more time.